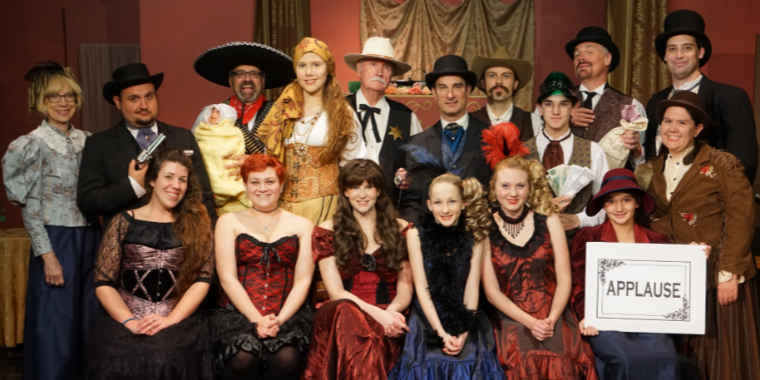 Copyright Gary McCarver © 2010
3 Bandits and a Baby
3 bandits and a baby
Also known as "Liars, and Scoundrels and Villains ... Oh My!"
From the small old western town of San Juan Capistrano just after the California Gold Rush ... this musical melodrama fondly retells the story of gamblers, rainmakers, fortune-tellers, entertainers, and bandits of the old west. Also, thrown in is a good measure of lost love, lost youth, re-found love, and one "orphaned girl" in need of a father.
Characters include ... the take charge sophisticated owner of the local saloon - Misty Meaner, the gypsy - Crystal Ball, the Outlaw - Robin Banks, the rainmaker impresario scientist and con-man - Professor Stratus, Kitty and Ally Katz, the dashing card-shark - Jack Potts, the sheriff - Evan Meaner, his deputy - Pat Downe, and the less than honest banker - Bill Foldes.
Get ready for a generous supply of family-friendly fun old-time music and humor. Be sure to watch the video preview online to see the rainmaker's show, the outlaw's backstory, and the musical hoopla that goes on every night in the Misty's Hideaway saloon.
This may become your new favorite play ... for its music and melodramatic message. There are three villains so it is three times the fun.
Can I download a read-only PDF perusal copy of your script to review? Sure thing ... glad to provide a read-only PDF of this script for you. Simply click the following link:
READ-ONLY PERUSAL SCRIPT DOWNLOAD LINK FOR THIS MELODRAMA
How do I buy a printed perusal copy of this script? If you prefer paper ... just click the link below and one can be professionally printed on-demand and a perfect-bound script can be sent your way. http://www.lulu.com/content/paperback-book/3-bandits-and-a-baby/23102704
CAST: 7F / 8M plus a piano player

WHAT YOU GET: HeroAndVillain Melodramas are turn-key productions and include downloadable links for a printable script as a PDF and editable MS Word doc (so you can customize this play), a full musical score, sample rehearsal tracks as MP3 files, resource graphics and photos, plus printable cue-card signs. Some Schools, Playhouses, and Theatres have used the rehearal tracks for performances when they could not find a piano player. The tracks are not made for that ... and live piano is always best ... but with our plays you call the shots.