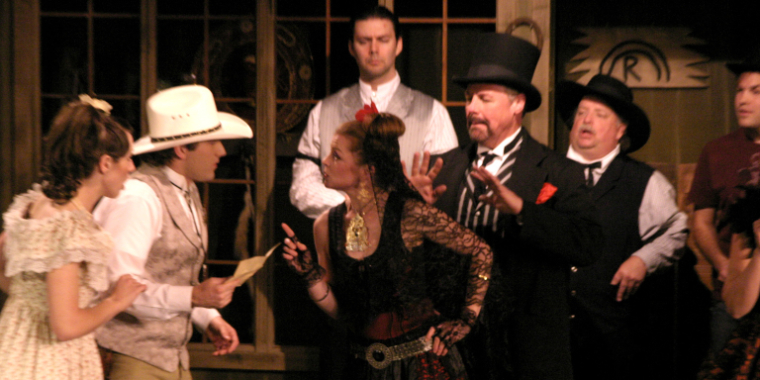 Copyright Gary McCarver © 2010
A Broken Badge Christmas
a broken badge christmas
Also known as "Oils Well that Ends Well"


THIS HOLIDAY MELODRAMA COMES WITH EXTRA PLAY RESOURCES
Up for some holiday fun? Welcome back to the small pacific coast town of Longview Washington for the story of a lost love, a "rehabilitated" villain, a jilted woman, and a framed sheriff. At the same time, it is also the story of one actor at the end of his radio career and another just at the beginning of a whole new life.
Familiar melodrama friends have returned including that scoundrel Professor Mack and that irrepressible Gypsy Claire Voyant who now runs the local saloon. New friends include our Hero Justin Credible and our Heroine "Longview Lacie".
The story opens on Christmas eve in 1939 as the popular "Longview Radio Theater" radio broadcast is about to begin its final weekly radio broadcast entitled "A Broken Badge Christmas" on KBAM 1270 on the AM radio dial. Through the magic of radio, the audience is transported back to that much simpler year of 1896 ... for the retelling of a completely mostly true tale of the old west ... well at least that is our story and we're sticking to it.
Of course, also included are a whole slew of authentic old-time songs, live sound effects and an ample supply of shameless plugs. Now fetch 'yerself an eggnog and gather around your radio. Turn back your calendars as a story of love across the centuries unfolds.
Can I download a read-only PDF perusal copy of your script to review? Sure thing ... glad to provide a read-only PDF of this script for you. Simply click the following link:
READ-ONLY PERUSAL SCRIPT DOWNLOAD LINK FOR THIS MELODRAMA
CAST: 7F / 7M plus a piano player

WHAT YOU GET: HeroAndVillain Melodramas are turn-key productions and include downloadable links for a printable script as a PDF and editable MS Word doc (so you can customize this play), a full musical score, sample rehearsal tracks as MP3 files, resource graphics and photos, plus printable cue-card signs. Some Schools, Playhouses, and Theatres have used the rehearal tracks for performances when they could not find a piano player. The tracks are not made for that ... and live piano is always best ... but with our plays you call the shots.