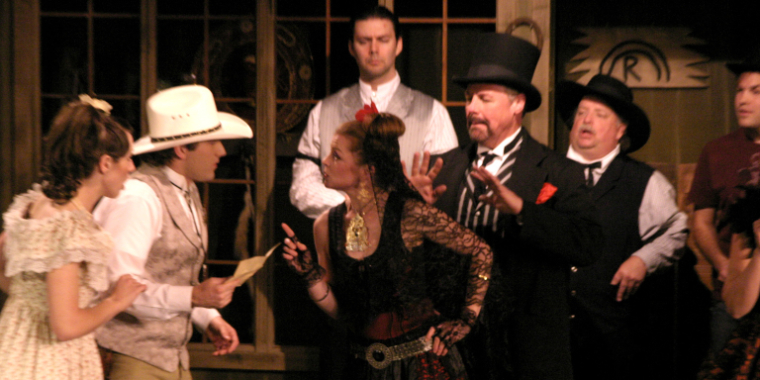 Copyright Gary McCarver © 2010
The Clueless Sheriff
the clueless sheriff
This is the Small-Cast version of "The Broken Badge"


THIS IS A DISCOUNTED SMALL-CAST MINI-MELODRAMA
Through the magic of Melodrama, we are transported to that much simpler year of 1896 ... for the retelling of tale of the old west ... in a time before the crash ... a time before two world wars ... a time of Heroes and Villains.
This Play welcomes the audience back to the small western town of San Juan Capistrano (or your town if you want) for the story of a lost love, a "rehabilitated" villain, a jilted woman, and a framed sheriff. Familiar melodrama friends have returned including ... that scoundrel Professor Mack, the Judge Jerry Mander and that irrepressible Gypsy Claire Voyant. New friends include Justin Credible, and Sally Mander (her friends call her "San Juan Sally"). All served up with a generous supply of family-friendly old-time music. It is the story of heroes and villains, but mostly about doing what is right ... no matter the cost. How very Melodramatic.
Can I download a read-only PDF perusal copy of your script to review? Sure thing ... glad to provide a read-only PDF of this script for you. Simply click the following link:
READ-ONLY PERUSAL SCRIPT DOWNLOAD LINK FOR THIS MELODRAMA
CAST: 6F / 5M plus a piano player and optional extras

WHAT YOU GET: HeroAndVillain Melodramas are turn-key productions and include downloadable links for a printable script as a PDF and editable MS Word doc (so you can customize this play), a full musical score, sample rehearsal tracks as MP3 files, resource graphics and photos, plus printable cue-card signs. Some Schools, Playhouses, and Theatres have used the rehearal tracks for performances when they could not find a piano player. The tracks are not made for that ... and live piano is always best ... but with our plays you call the shots.