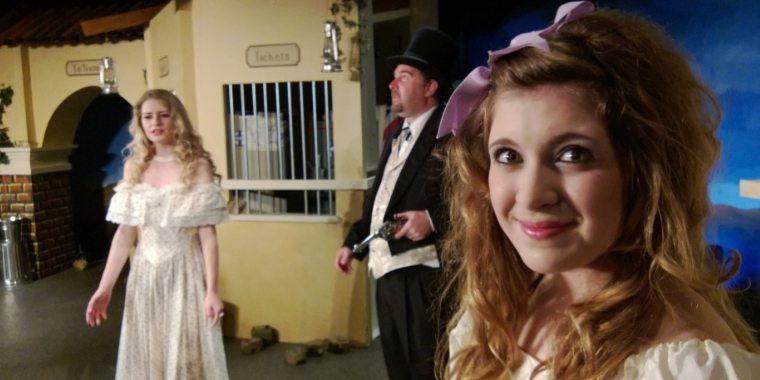 Copyright Gary McCarver © 2010
Dirty Deeds at the Depot
dirty deeds
at the depot
Also known as "Professor Mack's Miracle Elixir of Life"
Welcome to the small western town of San Juan Capistrano (or your town if you want to customize this Melodrama). The prologue begins with the Depot's Station Master reminiscing about the glory days of the train depot back in 1895. As he recalls the story, we are transported back to 1895 and the now young Station Master enters the ticket office announcing the arrival of the Santa Fe from Chicago - Springfield - St. Louis - Wichita and Albuquerque on track one. One of the locals says, "but we only have one track" - and so begins the Melodrama.
Meet gentle young Lacie Camisole awaiting the arrival of her future husband. Not one of her selection, mind you, but one of her father's choosing for her so he can save the Camisole family ranch. Her betrothed is arriving on the Chicago train to collect her. Lacie has resigned herself to her fate until she finds that the new station master is Justin Tyme ... her not-forgotten childhood sweetheart.
Will this surprising revelation change the course of her future? Is the arrival of Professor Mack's traveling Medicine Show merely a coincidence or does the "Professor" have a nefarious scheme up his sleeve? What brings the Gypsy Claire Voyant to town? What is Wyatt Earp doing in town and why can't you find a Pinkerton agent when you really need one? Mayhem, mystery, dreams fulfilled, plans dashed to the rocks. Schemers and Scoundrels - all just a part of the Dirty Deeds going on at the Depot with an ample supply of toe tapping authentic old-time music.
Characters include ... Lacie Camisole, Dusty Trails, Helen Highwater, Justin Tyme, and Professor Thaddeus Mack along with a slew of favorites.
Can I download a read-only PDF perusal copy of your script to review? Sure thing ... glad to provide a read-only PDF of this script for you. Simply click the following link:
READ-ONLY PERUSAL SCRIPT DOWNLOAD LINK FOR THIS MELODRAMA
How do I buy a printed perusal copy of this script? If you prefer paper ... just click the link below and one can be professionally printed on-demand and a perfect-bound script can be sent your way. http://www.lulu.com/content/paperback-book/dirty-deeds-at-the-depot/11167032
CAST: 4F / 6M plus a piano player and several optional extras

WHAT YOU GET: HeroAndVillain Melodramas are turn-key productions and include downloadable links for a printable script as a PDF and editable MS Word doc (so you can customize this play), a full musical score, sample rehearsal tracks as MP3 files, resource graphics and photos, plus printable cue-card signs. Some Schools, Playhouses, and Theatres have used the rehearal tracks for performances when they could not find a piano player. The tracks are not made for that ... and live piano is always best ... but with our plays you call the shots.