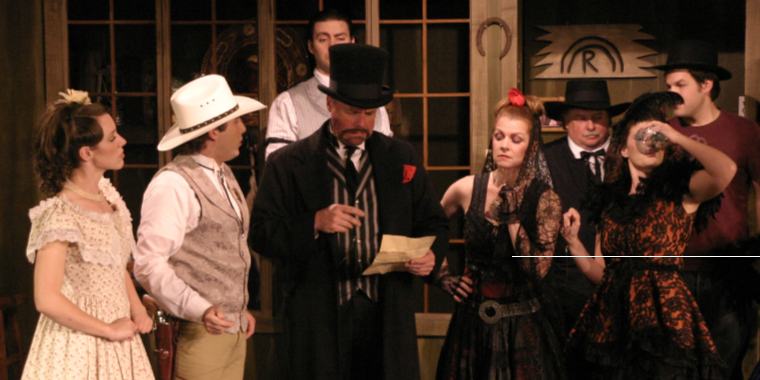 Copyright Gary McCarver © 2010
Dastardly Deeds at The Dixon Depo
dastardly deeds
at the dixon depot
Also known as "If you move it - they will come"


THIS IS A DISCOUNTED SMALL-CAST MINI-MELODRAMA
An Old West Melodrama customized for Online Readers' Theatre or a shorter Duration play
Run Time is less than 1 hour.

Through the magic of Melodrama and the Internet … get transported to the much simpler year of 1883 in the small western town of Dixon for the story of a moved town, a lost love, a "rehabilitated" scoundrel, a jilted woman, and a framed sheriff. Boo at the Villain. Cheer for the mysterious Gypsy Claire Voyant and the heroine Sally Mander. And meet the heroic yet clueless sheriff Justin Credible. Of course, you can expect a whole slew of authentic old-time songs in this family friendly old west melodrama.
Can I download a read-only PDF perusal copy of your script to review? Sure thing ... glad to provide a read-only PDF of this script for you. Simply click the following link:
READ-ONLY PERUSAL SCRIPT DOWNLOAD LINK FOR THIS MELODRAMA
CAST: 4 M & 6F + Narrator + Sound Effects Wizard
(music tracks are provided so no piano player is needed)

WHAT YOU GET: HeroAndVillain Melodramas are turn-key productions and include downloadable links for a printable script as a PDF and editable MS Word doc (so you can customize this play), a full musical score, sample rehearsal tracks as MP3 files, resource graphics, plus printable cue-card signs. Some Schools, Playhouses, and Theatres have used the rehearal tracks for performances and the mini-Melodramas are perfect for this use.