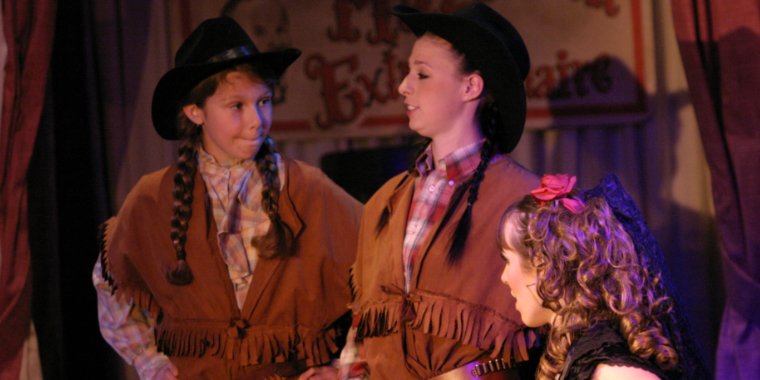 Copyright Gary McCarver © 2010
Cantankerous Kate Returns
wild west mischeif
Also called "Cantankerous Kate Returns"


THIS MELODRAMA IS NOT AVAILBLE UNTIL THE 2024/2025 SEASON
Wild West shows were pretty much traveling vaudeville performances that existed from 1870 to roughly 1920. The shows started as theatrical stage productions and evolved into open-air shows romanticized Heroes and Villains of the old west. And usually included wild animals that existed in the American West. While some of the storylines and characters were based on historical events, others were exaggerated and sensationalized.
This Melodrama is the story of the last days of the Wild West Shows in America. We follow the exploits of the Cantankerous Kate Wild West Extravaganza. With her protegee Rhoda Horse ... who knows what trouble they will get into as the Wild West returns to Europe in 1902 with a run in London, capped by a visit from King Edward VII and the future King George V. The Wild West show traveled throughout Britain performing in nearly every city large enough to support it and then finished with a two-month tour of France, Italy, Austria, Romania, the Ukraine, Bohemia, Germany, before coming back to the good old U S of A.
Can I download a read-only PDF perusal copy of your script to review? Sure thing ... glad to provide a read-only PDF of this script for you. Simply click the following link:
READ-ONLY PERUSAL SCRIPT DOWNLOAD LINK FOR THIS MELODRAMA COMING 2024
CAST: 8F / 7M plus a piano player and several optional extras

WHAT YOU GET: HeroAndVillain Melodramas are turn-key productions and include downloadable links for a printable script as a PDF and editable MS Word doc (so you can customize this play), a full musical score, sample rehearsal tracks as MP3 files, resource graphics and photos, plus printable cue-card signs. Some Schools, Playhouses, and Theatres have used the rehearal tracks for performances when they could not find a piano player. The tracks are not made for that ... and live piano is always best ... but with our plays you call the shots.