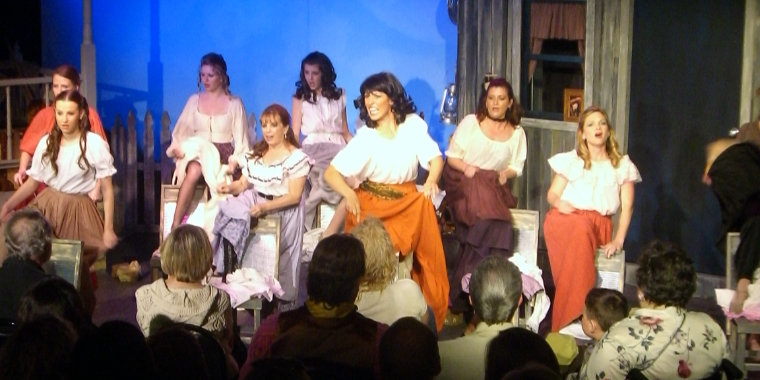 Copyright Gary McCarver © 2010
San Juan's Dirty Laundry
san juan's dirty laundry
Also known as "Will Her Knickers Ever Get Clean?"
Are you up for some another heaping helping of Melodramatic excitement? In that case ... welcome back to the small western town of San Juan Capistrano (or your town if you want to customize this Melodrama) for the mostly true retelling of a story about lost love, a villainous railroad tycoon, a heroic woman and the seldom told story of just how Orange County really became Orange County back in 1889. Get ready as our Narrator sets the stage on the porch of the Meddlesome Inn hotel and invites you back to a fascinating story left out of many of the history books. It is a Melodrama with a "heart" and will just as easily make you sigh as laugh and get you thinking about the history we are seldom told about.
If you've never heard the story of San Juan's Dirty Laundry ... we are talking about the story of the lady that tried to stop the train from coming through San Juan Capistrano - with a clothesline. We promise an ample supply of twists and turns, schemers and dreamers, misdirection and mystery, frivolity, and authentic old time melodramatic music in this story based on real California history.
Characters include ... a good-natured fast-talking heroic type Barry Meddlesome, the historic Modesta Villa, Mother Meddlesome, the lovely Molly Coddle, May Whee, Scantilly Clad, and our young cue-card maven Paige Turner.
Can I download a read-only PDF perusal copy of your script to review? Sure thing ... glad to provide a read-only PDF of this script for you. Simply click the following link:
READ-ONLY PERUSAL SCRIPT DOWNLOAD LINK FOR THIS MELODRAMA
How do I buy a printed perusal copy of this script? If you prefer paper ... just click the link below and one can be professionally printed on-demand and a perfect-bound script can be sent your way. http://www.lulu.com/content/paperback-book/san-juans-dirty-laundry/13074401
CAST: 7F / 5M plus a piano player and optional extras

WHAT YOU GET: HeroAndVillain Melodramas are turn-key productions and include downloadable links for a printable script as a PDF and editable MS Word doc (so you can customize this play), a full musical score, sample rehearsal tracks as MP3 files, resource graphics and photos, plus printable cue-card signs. Some Schools, Playhouses, and Theatres have used the rehearal tracks for performances when they could not find a piano player. The tracks are not made for that ... and live piano is always best ... but with our plays you call the shots.