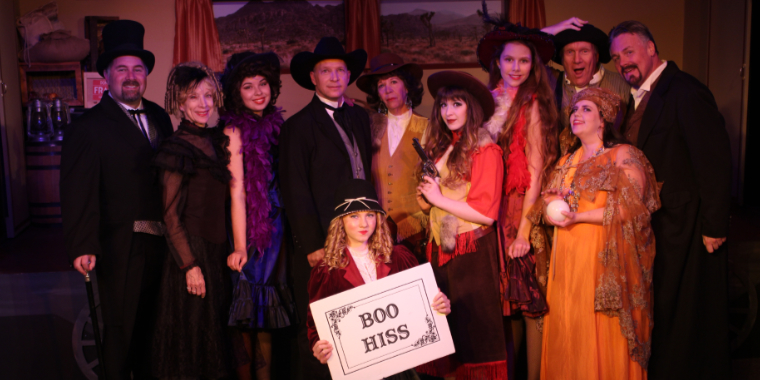 Copyright Gary McCarver © 2010
Professor Mack's Last Train
PROFESSOR MACK'S LAST TRAIN
Also known as "Villainous Loco-Motives"
From the small town of San Juan Capistrano (or your town if you want to customize this Melodrama) all the way to Paris France. This musical melodrama fondly retells the story of lost loves, lost youth, found love, and the last days of the Wild West Shows. With trick shots, old-west ballyhoo, and a train to who know where … you will love your stay. Meet Sharpshooter Cantankerous Kate a talented singer and working in her own Wild West show after years of performing in the circus. Montana Ana her apprentice, and the supposedly "rehabilitated" villain Professor Mack who is now running The Mack Brother's Travelling Wild West Show in Paris France.
While you are at it - meet a slew of other great characters including ... Crystal Chanda Leer, Penny Nichols, Heidy Claire, Lois Price, Clay Wall, Darren Deeds, and the mysterious Madame Zorelda. And no melodrama would be complete without a cue-card maven named Sadie Words.
We promise an ample supply of twists and turns, schemers and dreamers, misdirection and mystery, frivolity, authentic old-time melodramatic music, and a last-minute plot-twist gunfight on a train that will change everything.
Can I download a read-only PDF perusal copy of your script to review? Sure thing ... glad to provide a read-only PDF of this script for you. Simply click the following link:
READ-ONLY PERUSAL SCRIPT DOWNLOAD LINK FOR THIS MELODRAMA
How do I buy a perusal copy of this script? Easy ... Just click the link below and one can be professionally printed on demand and a perfect-bound copy can be sent your way. http://www.lulu.com/content/paperback-book/professor-macks-last-train/23102737
CAST: 8F / 4M plus a piano player and a few optional extras

WHAT YOU GET: HeroAndVillain Melodramas are turn-key productions and include downloadable links for a printable script as a PDF and editable MS Word doc (so you can customize this play), a full musical score, sample rehearsal tracks as MP3 files, resource graphics and photos, plus printable cue-card signs. Some Schools, Playhouses, and Theatres have used the rehearal tracks for performances when they could not find a piano player. The tracks are not made for that ... and live piano is always best ... but with our plays you call the shots.